EVENT COMPUTER ENGINEERING TECHNOLOGY AND ART CORTANA DI SEMARANG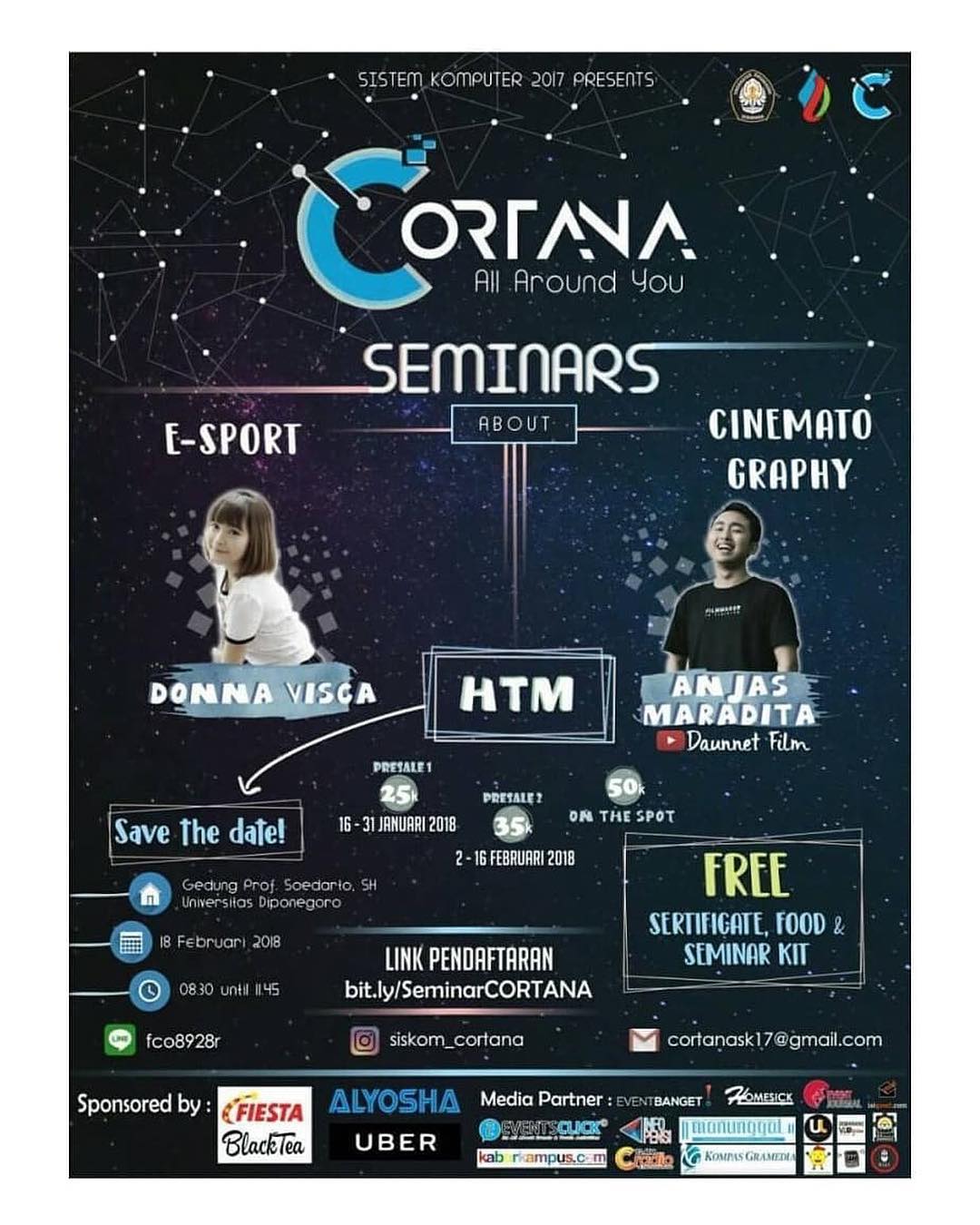 EVENT COMPUTER ENGINEERING TECHNOLOGY AND ART CORTANA DI SEMARANG
Tanggal Kegiatan
:

18 Februari 2018 - 18 Februari 2018

Lokasi
:
Gedung Prof. Soedarto Universitas Diponegoro Semarang

SPECIAL EVENT OF CORTANA ALERT

Sistem Komputer Universitas Diponegoro 2017 Proudly Presents

Computer Engineering Technology and Art "CORTANA"
-All Around You-

Will be held SEMINARS about


Absolutely with our special and inspirational guests that you would like! They are :

The Beauty gamer girl and cosplayer "DONNA VISCA"
The Creative Filmmaker and youtuber "ANJAS MARADITA" or also Known as "DAUNNET FILMS" on youtube.


Wow! This is specially for you all the cool people out there who wants to know more about gaming and film making.

Dont miss the chance to meet and learn new things with them!

There will be also amazing tips and tricks from them!

And we will give you
[FREE]

Seminars kit
Certificate
Food


Yippi!???? So,
SAVE THE DATE and please clear your schedules :
on February, 18th 2018
at Gedung Prof. Soedarto Universitas Diponegoro Semarang.
8.30 a.m till drop.
Open Registration : 7.00 a.m ????SEMINARS TICKET:

Presale 1 : 25k (January 16th - January 31st 2018)
Presale 2 : 35k (February 2nd - February 16th 2018)
OTS : 50k [ FORMULIR PENDAFTARAN : http://bit.ly/SeminarCORTANA ]


For More Information :
Line : @fco8928r [ s.id/cortana ]
Instagram : @siskom_cortana
E-mail : CortanaSK17@gmail.com

Contact Person [Line] :
heidiamellie
drmydrjd


See you!