Tiger Woods Terluka Parah Dalam Kecelakaan Tunggal di Rolling Hills Estates
24 Februari 2021
maya silalahi
Pegolf Tiger Woods terluka parah dalam kecelakaan tunggal di Rolling Hills Estates Selasa pagi.
Departemen Sheriff Los Angeles County menanggapi panggilan sekitar pukul 7:15 pagi di sisi utara Hawthorne Boulevard dekat Blackhorse Road. Menurut Sheriff LASD Alex Villanueva, Woods menabrak pohon di daerah tersebut.
Menurut Sheriff LASD Alex Villanueva, Genesis GV-80 2021, mobil SUV yang dikemudikan oleh Woods, keluar dari jalan raya dan terguling beberapa ratus kaki dari pembatas tengah sebelum menabrak pohon.
Agennya Mark Steinberg mengatakan pada Golf Digest pada hari sebelumnya bahwa Woods menderita "beberapa" cedera kaki akibat kecelakaan itu.
"Dia saat ini sedang menjalani operasi dan kami berterima kasih atas privasi dan dukungan Anda," kata Steinberg.
Pihak berwenang awalnya melaporkan harus menggunakan alat "the jaws of life" untuk menarik Woods dari reruntuhan, tetapi mereka kemudian menarik kembali informasi itu.
Dia dilarikan ke Pusat Medis Harbor-UCLA di Torrance dalam kondisi serius, kata Departemen Pemadam Kebakaran Kabupaten LA.
Bill Melugin dari FOX 11 melaporkan bahwa obat-obatan dan alkohol tampaknya tidak menjadi faktor penyebab kecelakaan itu. Villanueva menegaskan bahwa Woods dalam keadaan sadar dan tidak ada bukti kerusakan. Kepala Pemadam Kebakaran Los Angeles County Daryl Osby juga mengatakan Woods dalam keadaan sadar di tempat kejadian setelah kecelakaan itu.
FOX News melaporkan Woods terlambat ketika dia meninggalkan hotel setelah menunggu mobil SUV Genesis dari petugas valet.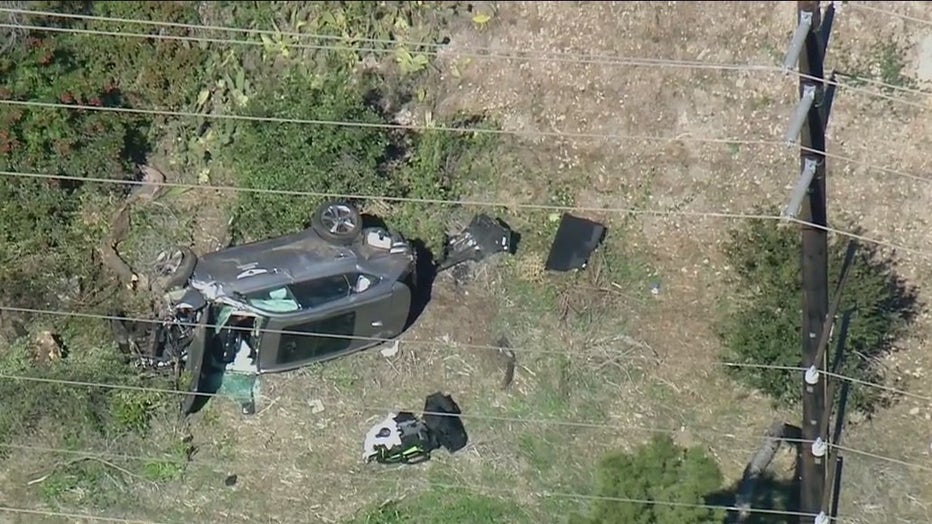 Woods berada di area itu untuk merekam sesuatu di Terranea Resort yang mewah. Karena tidak terbiasa dengan medan yang curam, pihak berwenang yakin Woods kehilangan kendali saat menuruni bukit.
Rolling Hills Estates adalah kawasan elite yang terletak sekitar 30 mil di selatan pusat kota Los Angeles.
Woods, yang tinggal di Florida, berada di kota itu setelah menjadi tuan rumah Genesis Invitational di PGA Tour di Pacific Palisades selama akhir pekan.
Terlahir sebagai Eldrick Woods, pemain berusia 45 tahun ini dianggap sebagai salah satu pegolf terhebat sepanjang masa dan melanggar batasan rasial sepanjang kariernya. Dia akan dilantik ke dalam Hall of Fame Golf Dunia akhir tahun ini.
Akan tetapi, dia tidak ikut berlaga, dengan alasan masih mengalami masalah dengan punggungnya yang dioperasi, namun ia terlihat berada di Rolling Hills Country Club pada Senin bersama aktris Jada Pinket Smith, mantan pebasket Dwayne Wade dan komedian David Spade.

Woods menjalani operasi punggung untuk kelima kalinya pada Desember.
"Kami ingin memberikan dukungan sepenuh hati dan doa kami pada saat-saat sulit ini. Silakan bergabung dengan kami untuk mendoakan Tiger menjalani operasi yang sukses dan semua yang terbaik untuk pemulihan penuh," kata legenda golf Jack Nicklaus.